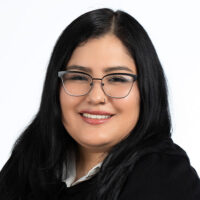 Amanda Arevalo
Social Work Intern, School and Community Programs
Child Mind Institute
Amanda Arevalo is a social work intern for the School and Community Programs team at the Child Mind Institute. She is a second year MSW candidate at New York University (NYU), having completed her bachelor's degree in human services and community justice at John Jay College of Criminal Justice.
Amanda gained invaluable experience in the social work field through her position as a social work intern at Nido De Esperanza, where she facilitated groups and had one-to-one sessions for prenatal clients, toddlers, and their parents/guardians. She also worked as an ASQ Specialist and was a former Family Worker at Program Support LLC, where she assisted families with Early Intervention and Committee on Preschool Special Education (CPS) referrals. Additionally, she built strong connections with daycare owners to identify children that may need more help and provided services such as recruitment, registration, intake, and ongoing support to families applying for subsidized childcare through the Administration for Children's Services.
Amanda is a fluent Spanish speaker and has completed several trainings, including The Integrated Mental Health/Addictions Treatment Training Certificate. She is dedicated to social work and helping communities in need.
Education
MA, Social Work, Expected 2024 New York University, New York, NY
BS, Human Services and Community Justice, John Jay College of Criminal Justice, New York, NY
Training
Social Work Intern, Nido De Esperanza, Washington Heights, NY
Admin Intern, CUNY XPress Immigration Center, New York, NY