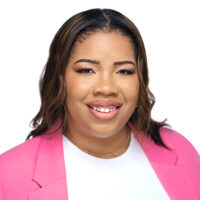 Asha Wilburn, LPCC
Clinician, Youth Mental Health Academy
Child Mind Institute
Asha Wilburn, LPCC, is a clinician with the Youth Mental Health Academy at the Child Mind Institute. She is a California state-licensed professional clinical counselor. She earned her bachelor's degree in child and adolescent development with a minor in communications at San Jose State University. Asha earned her master's degree in clinical forensic psychology at The Chicago School of Professional Psychology. 
Asha is skilled in implementing and teaching evidence-based practices to support whole-person wellness, build resiliency, and highlight strengths. She has been providing direct clinical services for six years; she has worked as a wraparound and full-service partnership (FSP) therapist at various agencies that support youth and families from marginalized communities, including Amanecer Community Counseling, Children's Institute Inc., and Sycamores Child and Family Services. More recently, Asha has provided group and individual therapy in residential and intensive outpatient treatment centers.
Asha is passionate about youth development, mental health awareness, and supporting underserved communities by providing quality care, appropriate resources, and opportunities.
Education
MA, Clinical Forensic Psychology, The Chicago School of Professional Psychology,Los Angeles.
BA, Child and Adolescent Development, San Jose State University.