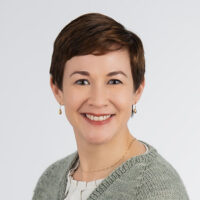 Erin Osbourn
Chief Information Officer
Child Mind Institute
Erin Osbourn is the Chief Information Officer at the Child Mind Institute. Erin works closely with the Board and Executive Team to create and implement an IT strategy that best enables the organization's mission.
As a hands-on team leader, Erin works to develop, plan, and implement an information technology strategy that allows the Child Mind Institute to effectively and efficiently deliver its services with upgraded information systems, utmost security, and ability to leverage data to improve mental health outcomes.
Erin's many responsibilities includes working with the clinical team to improve patient data collection and reporting; working with the research team to create value from data for academic research purposes; and leading the IT team to develop the infrastructure for maintaining the website and other digital customer- and partner-facing technologies.
Erin brings to her role 18 years' experience in the healthcare industry. In her work as a healthcare IT executive, she drove business outcomes through innovative healthcare technical solutions, strategic planning, and infrastructure deployments to create cost savings and increased efficiency. Most recently, as CIO of the New York Hotel Trades Council & The Hotel Association of New York City Employee Benefit Funds since 2017, Erin oversaw the Information Technology department spanning infrastructure, networking, telephony, hardware, clinical application, and benefits software. Among her many contributions during her tenure, she established a NIST-based cybersecurity program; served as the HIPAA security officer overseeing policy and procedure development; realized millions in savings by establishing criteria for accounting procedures, financial reports, IT spend, and budget forecasts; directed an enterprise-wide risk management program; and successfully contained and controlled a major cybersecurity incident.

Erin earned a Master of Science in computer information systems and health informatics from Boston University.