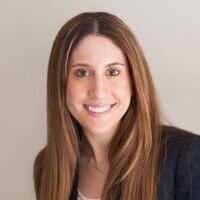 Janine Domingues, PhD
Senior Director of Professional Training, School and Community Programs; Psychologist, Anxiety Disorders Center
Child Mind Institute
Contact
Tess Wodin, Staff Associate
646.625.4422
Janine Domingues, PhD, is the Senior Director of Professional Training for School and Community Programs and a psychologist in the Anxiety Disorders Center at the Child Mind Institute. She has developed and provided educators and school-based mental health professionals with evidence-based prevention and intervention training programs for schools K-12. Dr. Domingues is passionate about ensuring the sustainability of mental health prevention and intervention services in schools by empowering staff through effective and supportive training.
Dr. Domingues specializes in the evaluation and treatment of anxiety and mood disorders in children, adolescents, and young adults, and has expertise in providing treatment to children and families who have been affected by trauma and grief. She has extensive experience in providing cognitive behavioral therapy (CBT) to children, adolescents, and young adults struggling with a range of anxiety disorders, depression, and post-traumatic stress disorder (PTSD). Dr. Domingues has received specialized training in exposure and response prevention (ERP), dialectical behavioral therapy (DBT), parent-child interaction therapy for selective mutism (PCIT-SM), unified protocol (UP), and supportive parenting for anxious childhood emotions (SPACE).
Dr. Domingues is dedicated to destigmatizing mental health challenges through education and bringing evidence-based interventions into schools and communities. She has provided education through multiple outlets, including professional talks and media. Dr. Domingues is devoted to helping children, families, and communities build resilience, strength, and hope.
Training
Post-doctoral Fellow, the Child Mind Institute
Intern, Rutgers University Behavioral Health Care, Newark, NJ
Extern, Child Trauma Clinic, University of Connecticut Health Center
Extern, Anxiety Disorders Center/Center for Cognitive Behavioral Therapy, Institute for Living, Hartford Hospital, Hartford, CT
Education
PhD, Child Clinical Psychology, University of Connecticut
MA, Clinical Psychology, University of Connecticut
MS, Clinical Psychology, Loyola University of Maryland
BA, Psychology, Loyola University of Maryland
Ready to Get Started?
Request an Appointment
Please complete the form below or call us at 877.203.3452 to request an appointment with one of our expert clinicians. A member of our intake team will follow up with you.