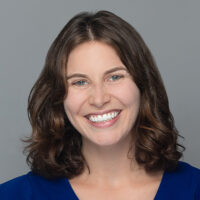 Susanne Congress, LCSW
Social Worker, Anxiety Disorders Center
Child Mind Institute, San Francisco Bay Area
Contact
Lalli Sandoval, Staff Associate
650.402.2547
Susanne Congress, LCSW, is a social worker in the Anxiety Disorders Center at the Child Mind Institute.
She is passionate about working with children of all ages and backgrounds and exploring how their life experiences shape and impact their mental health. By getting to know the whole child, she ensures that the child and their caregivers are given the skills and knowledge to empower them to confidently approach the world and all its joys and challenges.
Ms. Congress is a bilingual, English-and-Spanish-speaking clinician who has provided individual, family, and group therapy in school, home, and clinical settings. This experience has given her the ability to work with a diverse client population with a wide range of clinical issues. She emphasizes the importance of play for all age groups and encourages creativity. She strives to meet the child where they are to make them feel comfortable and understood. She seeks to partner with the child and their caregivers to serve as a resource and advocate for them throughout their mental health journey.
She has a specialized interest in the treatment and evaluation of children, adolescents, and young adults with anxiety and trauma-related disorders including generalized anxiety disorder, social anxiety disorder, obsessive compulsive disorder (OCD), and post-traumatic stress disorder (PTSD). She has extensive experience working with individuals with depression, attention-deficit/hyperactivity disorder (ADHD), and other mood and behavior-related disorders. She also works with LGBTQ+ youth.
Ms. Congress has received training in cognitive behavioral therapy (CBT), trauma-focused cognitive behavioral therapy (TF-CBT), exposure and response prevention (ERP) for OCD, motivational interviewing (MI), and dialectical behavioral therapy (DBT). She uses a team-based approach and collaborates with youth, their caregivers, school staff, and other medical professionals to ensure that she treats the whole child and helps promote their growth and resilience.
Experience
Mental Health Therapist, Private Practice: Adolescents and Young Adults, Baltimore, MD
Bilingual Mental Health Therapist, Johns Hopkins-Bayview Medical Center, Baltimore, MD
Training
Social Work Intern, Health Institute at Saint Agnes Hospital, Baltimore, MD
Bilingual Social Work Intern, Tahirih Justice Center, Baltimore, MD
Education
MSW, University of Maryland School of Social Work, Baltimore, MD
BA, Political Science and Spanish, University of Puget Sound, Tacoma, WA
Ready to Get Started?
Request an Appointment
Please complete the form below or call us at 877.203.3452 to request an appointment with one of our expert clinicians. A member of our intake team will follow up with you.