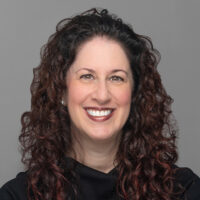 Helene Omansky, LCSW
Senior Social Worker, Mood Disorders Center
Child Mind Institute
Contact
Sudha Hebbala, Staff Associate
650.931.6503
Helene Omansky, LCSW, is a senior social worker in the Mood Disorders Center at the Child Mind Institute.
She has worked with children, teens, and families navigating life transitions, stress, depression, medical illness, family dynamics, parenting, and other situational challenges. She has also worked with teens experiencing suicidal ideation and engaging in self-injurious behaviors. As an active member of the LGBTQ Affirmative Therapists Guild of Utah, she has particular expertise supporting members of the LGBTQ+ community.
While with the Palo Alto Medical Foundation, Helene worked as the imbedded therapist in the pediatrician's office, where she met with children and families confronting situational life stressors. During her time at UCSF Benioff Children's Hospital, she worked with diverse medical populations including neurology, neuro-oncology, neurosurgery, liver transplant, developmental delays, and autism, helping patients and families throughout their medical journeys.
Helene is passionate about helping individuals discover easily accessible tools from within, to establish sustainable, healthy, and meaningful coping skills. She draws upon years of working with kids, teens, and families, borrowing from teachings in meditation and mindfulness in approaching stress with curiosity and kindness rather than dread and heaviness. Helene is formally trained in CBT (cognitive behavioral therapy) and utilizes this approach in her work.
Experience
Therapist, Wasatch Family Therapy, Sandy, UT
LCSW, Primary Children's Hospital, Salt Lake City, UT
LCSW/Therapist, Healthy Young Minds Program, Palo Alto Medical Foundation, Burlingame and Daly City, CA
Clinical Social Worker III, UCSF Benioff Children's Hospital, San Francisco, CA
Training
Social Work Intern, Children's Memorial Hospital, Chicago, IL
Social Work Intern, Evanston Hospital, Evanston, IL
Education
MA, Clinical Social Work, The University of Chicago School of Social Service Administration
BA, Sociology, University of Colorado, Boulder
Ready to Get Started?
Request an Appointment
Please complete the form below or call us at 877.203.3452 to request an appointment with one of our expert clinicians. A member of our intake team will follow up with you.