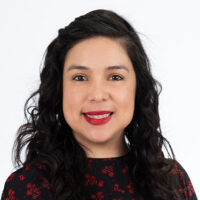 Karol Espejo, LCSW
Social Worker, Mood Disorders Center
Child Mind Institute
Contact
Jessica Nassau, Staff Associate
646.625.4257
Karol Espejo, LCSW, is a social worker in the Mood Disorders Center at the Child Mind Institute. She has extensive experience providing treatment to children in school and community settings. Mrs. Espejo has received training in Cognitive Behavioral Therapy (CBT) and Trauma-Focused Cognitive Behavioral Therapy (TF-CBT).
Mrs. Espejo has broad experience providing individual, group, and family therapy to diverse populations of children, adolescents, and families. She is particularly skilled and interested in helping individuals and families navigate depression, anxiety, school-based anxiety, emotional dysregulation, family dynamics, and other situational stressors.
Mrs. Espejo enjoys working as part of a multidisciplinary team. In school-based settings, she has worked alongside teachers, administrators, families, and other service providers to create and implement Individualized Education Programs (IEPs) and behavioral plans. In her work in Intensive Outpatient Clinics, she has collaborated with medical providers and other clinicians to ensure comprehensive holistic care to her clients. Additionally, Mrs. Espejo has provided education and presentations to broad audiences on topics including school-based mental health, coping with stress, culturally and racially competent mental health treatment, and parenting.
Mrs. Espejo approaches therapy as a cooperative partnership and aims to provide a safe and supportive environment that encourages youth to explore their feelings and ensures that families feel supported in the therapeutic process. Mrs. Espejo is passionate about helping clients explore their inner strengths and learn healthy and accessible coping skills as a way to promote positive and sustainable change.
Experience
School Social Worker, Caldwell-West Caldwell School District, Caldwell, NJ
School Counselor, The Bridge Inc. Jefferson Elementary School, West Caldwell, NJ
Psychotherapist, Jonah Green and Associates, LLC, Kensington, MD
School-Based Mental Health Therapist, Linkages to Learning Program, Gaithersburg, MD
Training
Clinical Intern, Department of Health and Human Services, Adult Behavioral Health Program, Wheaton, MD
Clinical Intern, Community Clinic Inc., Gaithersburg, MD
Education
MSW, Catholic University of America, National Catholic School of Social Service
B.S., University of Maryland, College Park, School of Public Health
More from Karol Espejo, LCSW
Ready to Get Started?
Request an Appointment
Please complete the form below or call us at 212.308.3118 to request an appointment with one of our expert clinicians. A member of our intake team will follow up with you.