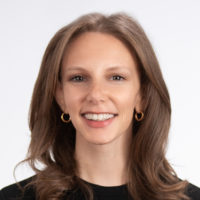 Rachel Ganz, PhD
Neuropsychologist, Learning and Development Center
Child Mind Institute
Contact
Julia Furnari, Staff Associate
646.625.4242
Rachel Ganz, PhD, is a neuropsychologist in the Learning and Development Center at the Child Mind Institute and is a New York State licensed psychologist. She specializes in the neuropsychological evaluation of children, adolescents, and young adults with a wide range of conditions that impact learning, behavior, and social-emotional functioning. Rachel has worked in hospital and private practice settings conducting neuropsychological evaluations with children and adolescents, and she has seen children and adolescents for therapy, executive functioning coaching, and academic remediation. Rachel is also trained in an Orton-Gillingham reading intervention program, which uses a multisensory approach to teach students how to read. She enjoys delivering evidence-based reading interventions to young students to help them become independent readers and learners. 
Rachel has also worked in head start programs within schools, an inpatient unit, and outpatient clinics. Rachel enjoys consulting and collaborating with parents and teachers to further enhance children's academic and social-emotional growth. Trained as a researcher and clinician in the field of attachment, she seeks to understand children's attachment patterns and how they impact children's development.
Rachel has also conducted research on Nonverbal Learning Disorder, exploring the brain bases of NVLD and the stability of the diagnosis over time. She has administered neuropsychological assessments and surveys to test the stability of learning problems and functional impairment associated with these problems. Rachel feels confident and passionate about helping students and parents advocate for their needs to help children reach their potential.
Training
Post-doctoral Fellow, Clinical Neuropsychology, The Brooklyn Learning Center
Psychology Intern, The Brooklyn Learning Center
Neuropsychology Extern, NYU Child Study Center
Psychology Extern, Brooklyn College Counseling Center
Albert Einstein College of Medicine, Revalidation of the Einstein Evaluation of School-Related Skills (EESRS)
Psychology Extern, Inpatient Unit, Beth Israel Medical Center
New School Counseling Center, Psychology Extern
Education
PhD, Clinical Psychology, The New School for Social Research
Masters in Psychology, The New School for Social Research
BA, Psychology, The George Washington University
Ready to Get Started?
Request an Appointment
Please complete the form below or call us at 877.203.3452 to request an appointment with one of our expert clinicians. A member of our intake team will follow up with you.