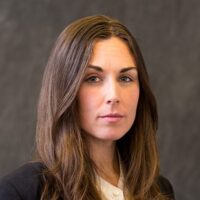 Sarah Burke Kontis
Vice President, Strategic Initiatives
Child Mind Institute
Contact
Lily Kalikow, Senior Administrative Coordinator
516.386.6651
Sarah Burke Kontis is Vice President of Strategic Initiatives at the Child Mind Institute.
In January 2021, the Child Mind Institute was awarded a transformative grant from the Stavros Niarchos Foundation to launch a clinical training program in Greece. This grant represents a new and exciting chapter in the Child Mind Institute's history and is a first step in developing global partnerships and scaling the impact of the Child Mind Institute's clinical expertise and training model. Sarah is taking a leading role in launching the clinical training program in Greece to ensure the success of the initiative and leverage an unprecedented opportunity to drive the Child Mind Institute's global growth and visibility.
In her previous role as Vice President of Development at the Child Mind Institute, Sarah led the organization's fundraising and development initiatives, including expanding revenue streams and partnering with all sectors of the philanthropic community to support the organization's ambitious goals.
Before joining the Child Mind Institute, Sarah served as an Assistant Vice President at CCS Fundraising, a strategic consulting firm that plans, manages and implements complex fundraising initiatives. At CCS, she was responsible for designing and leading comprehensive development program overhauls and enhancements with large-scale organizations such as Operation Smile, The National Center on Addiction and Substance Abuse, and the Sylvester Comprehensive Cancer Center, achieving multi-million dollar fundraising goals and expansive mission impact. Sarah also partnered with boards and senior executive leadership to coordinate and drive strategic planning efforts that are directing the organizations' programmatic and development activities.
Sarah has demonstrated a personal commitment to transforming lives via strategic philanthropy and program development throughout her career, having also worked for Orbis International, Amnesty International USA, International Relief and Development, and the U.S. Agency for International Development. She earned her Master of Science from the London School of Economics and Political Science, and her bachelor's degree from American University's School of International Service.